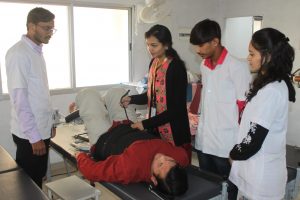 ORTHOPEDICS AND SPORTS DEPARTMENT
We are dedicated to providing comprehensive and multidisciplinary care to enable your recovery.
Orthopedics and Sports Physiotherapy is a scientific approach to treatment, following Evidence based guidelines.
Initially the physiotherapist will carry out a clinical assessment and this is followed by appropriate treatments.
Orthopedics and Sports physiotherapy also includes Pre and Post-Operative rehabilitation of hip, shoulder and knee.
orthopedic conditions treated by us at the physiotherapy department includes: Ligament sprain and tear, fracture rehabilitation, inflammation of tendon and bursa, OA, RA, scoliosis, Neck pain, back pain , shoulder pain, pre and post-surgical rehabilitation.
Physiotherapy treatment includes,
Manual therapy
Joint mobilization
Tapping
Soft tissue manipulation
Exercises – biofeedback exercises, swiss ball, dumbbell, weights, theraband and theratube
Advanced electrotherapeutic services includes,
LASER, TENS, IFT, ULTRASOUND, PARAFFIN WAX BATH, IRR, SWD, TRACTION,
Electrical stimulation, Combination therapy
Cryo-therapy
MWD, LWD
Moist heat therapy
Homes exercises are scientifically designed to help you mobilize the joints and strengthen the muscles. This is a critical part of your journey to return to full health.